Dr. Ramin Azghandi maintains the highest levels of accreditation and relentlessly pursues ongoing education to stay abreast of the latest trends in periodontics, implants and orafacial enhancements..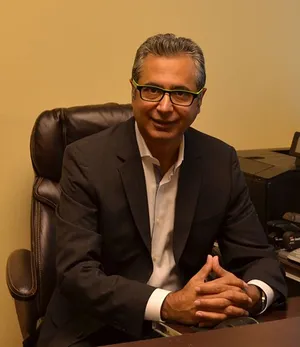 Dr. Azghandi started his higher education at Lewis & Clark College in Portland, OR where he received his Bachelor of Science degree in Biology in 1991.
Dr. Azghandi earned his Doctor of Dental Surgery degree from Northwestern University in Chicago, IL in 1995. He then completed a 3 year surgical residency program in Periodontology & Implantology at Boston University School of Dental Medicine in Boston, MA. He subsequently moved to greater Washington DC area in 1998 and has practiced in MD and VA ever since.
Dr. Azghandi's practice has been recognized as one of the most cutting edge implant and periodontal centers in Montogomery County, MD where he performs a full spectrum of surgical/non-surgical procedures utlizing the most advanced equipment including 3D imaging, lasers and Piezo Surgical units.
He is a firm believer in continuing education and has attended numerous advanced courses offered by internationally renowned clinicians/institutes including Pankey & Spear . He has been a Faculty Club Leader at Spear Education since 2012.
Dr. Azghandi has been an active member of many professional societies including American Academy of Periodontology , International Academy of Periodontology, and International Congress of Oral Implantologists. He has also served the dental community as a Clinical Assistant Professor at University of Maryland Dental School from 1999-2004. He continues his role as an educator by providing cotinuing education courses for dentists and hygienists.